Back To Our Services
There's nothing worse than putting off something you know needs to be done. Cleaning and maintaining your attic doesn't have to be stressful or difficult. We are here to help you with everything related to attic cleaning, insulation, and related tasks.
Removal Of Existing Insulation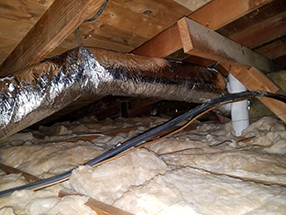 Sometimes it's necessary to remove the current insulation in the attic. This can for example be in preparation for an upgrade of the attic, or as part of a larger maintenance project in the house. No matter the reason, we provide insulation removal services to fit your situation.
Keep The Rodents Out
Rodents can wreak havoc on your attic and, by extension, your home. Having rodents in the attic is a health risk and is destructive. Don't let them gnaw through your insulation and other items in the attic. We can rodent proof your attic, and help with other necessary measures to keep it safe and pleasant to use.
General Attic Cleaning
As well as specialized services, we also offer comprehensive attic cleaning. Having your attic cleaned professionally on a regular basis is a good way to ensure that any potential problems are noticed early, and that your attic is not the cause of further issues in the rest of the house. We are experts in cleaning attics, and have the tools and knowledge to get to even the hardest to reach corners.
Decontamination Of Your Attic
If you do end up having a rodent problem in your attic, we can conduct a complete decontamination of the space. Assessment of health risks, deep clean, and restoration are steps towards a comprehensive decontamination.
Regardless of your attic size and your needs, our experts are ready to help out. We work with you to determine what action needs to be taken, and then carry out the project efficiently and professionally. With our expertise and tools, we provide the best services around to our local customers. Give us a call today!

Back To Our Services